2.5" (63mm) SS316 Pressure Gauge
Pressure gauges are instruments that measure the difference inpressure within a system and atmospheric pressure. They are used widely inindustrial processes to monitor the pressures of gases and liquids within compressors,process lines, vacuum equipment and storage tanks. Domestic applicationsinclude monitoring water pressure in mains supply, water tanks and swimmingpool filters. Such domestic pressure gauges mostly use an analog and pointerdisplay and can be easily rebuilt when damaged or rusty.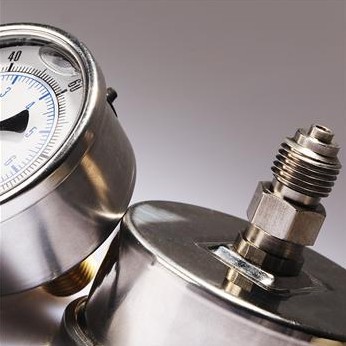 Instructions
1
Switch off the power supply to the water pump. Open a faucet todrain the tank.
2
Use the wrench to unscrew the brass fitting of the gauge to thewater system. Remove the gauge from its setting. Clean out any dirt, dust ordebris around the piping.
2.5" (63mm) SS316 Pressure Gauge is the mostpopular in our life.
Specification
1,SS304 Case and bezel
2,SS316 Internal and Connection
3,Detachable Bezel
4,Black Pointer
5,Alumium Dial
6,Glass Lens
7,1/4"BSP or NPT
8,Bottom Connection
9,Test Range: 0-20kpa&0-2000mmH2o
10.Accuracy:2-1.6-2
11Brand:Quality Well
Pressure gauges, like all measuring tools, have a tendency to wearover time and may become less accurate. Because pressure gauges are oftenmanufactured to accurately read only the middle values (the low and high endsof the scale provide less accurate readings), just "zeroing" yourpressure gauge may not ensure a good reading. Before you run out and purchase anew pressure gauge, consider calibrating it yourself.