What are the announcements when selecting bimetal thermometer?
Bimetal thermometer is a professional instrument for measuring medium and low temperature field temperature. It can directly measure the temperature of various media between 50~500c.According to the different installation mode and use environment, the models that can be selected are also different. In order to quickly and accurately select the appropriate bimetal thermometer, what are the announcements in the selection of bimetal thermometer?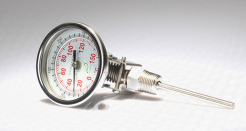 Model: A300C - 1 (WSS3B825150)
Type: Bimetal thermometer
Connection type:Adjustable
Bezel: Crimped
Material: All stainless steel SS304
Thread:1/2"NPT(other options)
Head diameter: 76mm
Stem OD: Ø6.35mm
Probe Length :150mm(50-1200mm optional)
Temperature range: 0-150C&F (or customized)
Accuracy: + / - 1.5%
Lens:Glass standard
IP Rating:IP65(dust proof, water spraying)
According to the specifications and parameters of bimetallic thermometer, we conclude that the following five points should be paid attention to in the selection of bimetal thermometer:
1. According to the measured medium temperature, select the appropriate range according to the medium temperature;
2. The connection mode depends on whether it is threaded connection or flange connection;
3. Whether a protective sleeve is needed or not, the main consideration is to install and dismantle conveniently and to withstand greater pressure;
4. Dial diameter, generally 100 mm diameter is the most commonly used, but if the location is higher, it is best to choose a large dial diameter, easy to view the degree;
5. Material, select the suitable material according to the use environment.