There's a popular picture on wechat (a social network). The title is "What's constant, and what's changeable?" There were several answers, and the manager of Shanghai Qualitywell, Audrey Gong gave us a simple answer, "Temperature instrument is constant, and business mind is changeable."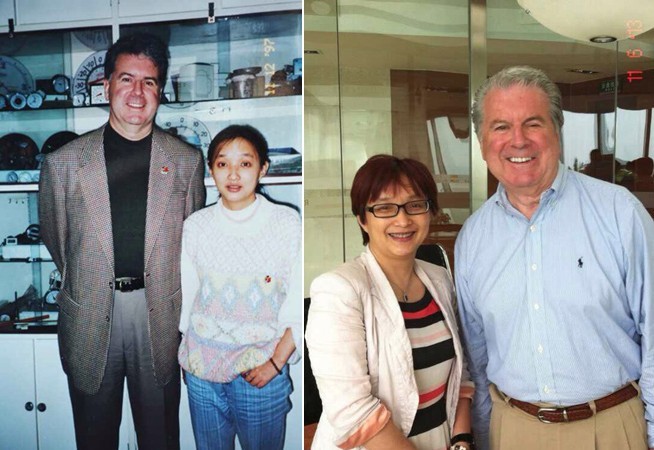 The first picture was shot in 1997. On this picture you can see Audrey Gong when she just started working in temperature instrument for just 4 years, and took the picture with one American customer. On the background of the picture we can the cabinet office and a series of temperature and pressure gauges.
The second picture was shot in July 2013. On this picture you can still see the two above mentioned people but this time you can realize the progress made after 20 years cooperation and hard work that has led to the transformation of the company.
Audrey Gong entered the temperature instrument industry on the 9th of april 1993, and worked for the same company for about 16 years. In 2008, she was forced to start her entrepreneurship career due to the financial crisis.
Her 16 years is witnessed by an increase in the quality of products, the number of staffs, expansion of the business and customers growth .The most glorious period is the amount of sales that rose to more than U.S $6000.00, and the total staff to over 400.
Audrey Gong started as a normal sales then moved declarant, purchaser, head of the system and became the international department manager, she also witnessed changes in the industry.
From 2008, SHANGHAI QUALITYWELL used 6 years to be listed on the Shanghai stock exchange market.
Changing of customers, maintaining and increasing the number. Many customers grew up with QUALITYWELL, some of them even cooperated with each other from 1997.
Changing of staff, increasing the number from 4 to an industry and trade integration company and making progress constantly.
Changing of products are from more and more technical content. QUALITYWELL has transformed from a pure OEM to products' customized service.
Change is an eternal subject.We are now in the era of rapid innovation which needs change. Would escaping from this important phenomenon actually help company to grow ?
Like Audrey Gong said, changes of organization starts from a business mind. We should think more about the customers' mind and requirement instead of only basing on the quality of our products. Because products are one of the essential elements in business in good faith.
Changelessness should be insisted upon . God reward those who work hard, the earth reward those who are sincere, human and business reward those who are honest, the industry reward those who study deeply.